Merlin has a wide range of production opportunities and can grow equally well in South Florida as it can in Northern Alberta. Foliar development and plant canopy is robust. Merlin tubers present unique new opportunities to market potatoes in North America. Bright white skins and a distinct red colour flash surrounding the eyes make an attractive eye catching potato. Consumer interactions favour Merlin during selection preference testings.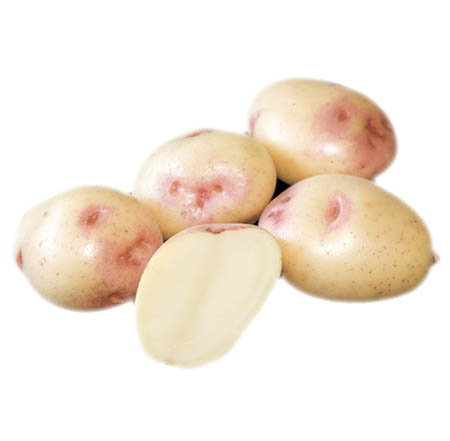 Utilization: Fresh Market
Maturity: Early main crop.
SkinColor: Bright white appearance with a distinctive sharp red colour flashes about the eye regions.
FleshColor: Bright White
Shape: Tubers are large, with a Round Oval shape.
Number: High.
DryMatter: Medium.
Dormancy: Long.
Yield: Very High.
Resists
Mechanical damage.
Good resistance to foliar and soil born diseases.
Partial resistance to Cyst nematodes and Common scab
High tolerance to environmental extremes.